By Sue
As we wander through the cities and towns on our journey, each of us has something that elicits the following declaration: "We have to stop and check this out!" For the kids it might be a bakery window filled with tempting pastries or an outdoor exercise park; for Max, it's a plaque detailing an important historical event or person. In my case it is, without question, a community garden tucked away in a quiet corner of the city. A few days ago while strolling through Madrid on our way to the Sunday flea market, I hit the jackpot!
As we walked down a sleepy, residential street an open gate along a beautiful mural-covered brick wall beckoned us to take a look. Stepping through the gate we were not disappointed. The sign that greeted us read as follows (translated from Spanish – thank you Google translate!):
This square is a community garden constructed by many people who opt for a coexistence based on mutual trust, ecology, regrowth and defending the common good. It's a place to share and to experience the reality derived from these values in a public space.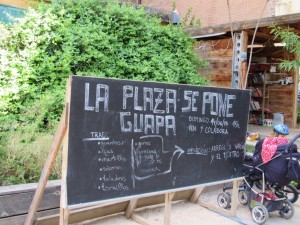 Right away you notice that a building must have once stood on this site as the garden is bordered on three sides by tall apartment buildings. A roughly ten foot brick wall is all that remains of the previous structure and every inch is either adorned with art or has been transformed to serve a community function such as a teaching space built into an archway along the street wall.
In addition to plenty of room set aside to grow vegetables and tend fruit trees, this "plaza guapa", roughly the size of half a football field, packs in many other wonderful features including a bike repair area, a geodesic dome/potting shed, outdoor oven, theater area for viewing movies, gazebo, teaching space, children's play area, swings, and a game table. Each area is thoughtfully constructed from reclaimed and recycled materials.
Imagine how many different ways neighbors and visitors connect with this space, experience community, and feel a sense of ownership and pride in what they have created! The collective creativity and energy that built and sustains this space is evident in every detail throughout the garden. I felt so lucky to stumble upon this hidden gem in the heart of busy, energetic Madrid. It made my day and sent me on my way inspired and excited to reconnect with my own community garden (Hillman City P-Patch) when we return.