By Caleb
When we were planning our time in Barcelona, one thing I really wanted to do was see a FC Barcelona match.  My dad and I bought tickets way back in November and after many months of waiting, the big day finally arrived. To get to the game we first had to take the subway across town. We got there so early that they weren't even letting people in yet (there were loads of people waiting to get in). That gave me time to buy a jersey and a scarf.
We got to our seats so early that they were still watering the field so we walked around the stadium. Barcelona played Real Sociedad that night and for majority of the game Barcelona had the ball and was basically in control. Barcelona won 2-0 with two goals in the second half including a bicycle kick by Pedro.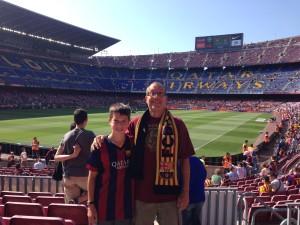 Watching the game in Barcelona was much different then watching a game in the U.S. During the game people are cheering, but mostly for specific things like a good play or a bad call. At the games in the U.S. there is usually constant cheering and noise. During the entire Barcelona game everyone stayed seated and concentrated on the game. At the games in the U.S. there are so many distractions and people are always moving around the stadium.
I prefer the Spanish way of watching soccer because it is much more about the game than anything else. My dad and I watched another FC Barcelona game in a bar and it was the same feeling of focus and concentration. In Spain watching sports is an important community experience. On game nights all the bars and restaurants are packed and you can hear cheering and yelling across the neighborhood.