By Max
One glorious, but really hot day in Sevilla, we discovered a wonderful way to see a large European city in a way that appeals to our whole group; renting bicycles! As Sevilla is a relatively flat city with many bike friendly routes we set out on a Sunday morning to see as much as we could.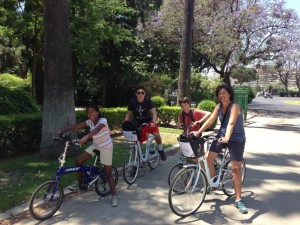 Starting with a beautiful ride along the Guadalquivir River we made it quickly to our first stop, the Museo Del Castillo De San Jorge (Castle of St. George).  I was really eager to see the castle as it is home to an interactive museum on the Spanish Inquisition. From 1481 – 1785 the castle was the headquarters of the Inquisition in Spain. What a powerful experience to read, see, and engage with artifacts of this time in Spanish history. We all left with a deeper understanding of the scope and intensity of the Inquisition.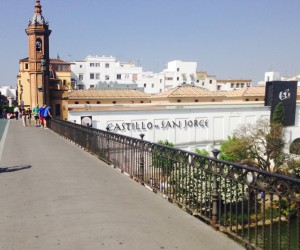 Having met our educational goal for the day, Sue insisted that we take in the local culture by visiting some ceramics shops and a highly acclaimed bakery.  While Noah, Caleb and I were pretty bored by the pottery, the bakery definitely lived up to its billing!
From the bakery, somehow it was time for sushi.  Yes, that's right- baked goods followed by sushi!  A few days earlier we had spied some beautiful looking fish at the Triana Market and Noah insisted that we return to make sure it tasted as good as it looked.  We were not disappointed!
Next, it was Romi's turn to take the lead as we biked towards the Maria Luisa Park.  Maria Luisa Park is a beautiful car free zone in the middle of the city.  Home to the Plaza de España, acres of gardens, and museums, we biked through dirt paths trying to stay in the shade as much as possible.
As the day got even hotter, it was Sue's turn to choose our next destination.  This typically makes us nervous as she has a habit of finding big hills with boring stuff at the top.  This time, however, her wanderings led to pay dirt.  As we rode along abandoned streets (by now siesta time on a Sunday), she found what appeared to be a modern art school and public space.  It was well over 90 degrees and for the first time that day, we started hearing groans of "can't we go home now?"  We pushed on and to our surprise, behind the school was a bandstand with a jazz ensemble and refreshments! As we sat there with drinks and snacks we all agreed on how lucky we are to share in these great experiences together.