By Max
After over five months on the road and with weekly changes of location and accommodations, we have still managed to create a routine of sorts. The good news is that on almost all days, our everyday life involves a good chunk of exploring, learning, and sight seeing. On our recent stop in Budapest, picking a single day to write about was difficult. Already in the first three days we visited an incredible castle and church, the third largest parliament building in the world, and spent a day soaking in 17 different thermal baths and pools. I know the kids will eventually write about some of those visits so I will share about another "typical" day we had that week.
My routine starts each day by getting up a bit earlier than the others to have coffee and catch up on anything I need to do online. Of course, this includes checking the Yankees' box score and other sports news at ESPN.com before moving on to email and other tasks. Around 8:00 I start waking up my workout partners, Noah and Caleb (and recently Romi, who has started running with us as well!). We don't always work out together, but on most days the three of us do some type of workout. We have had to be quite creative as we move from apartment to apartment without any equipment. However, we have learned that you can always run, do pushups, jump rope or, if you're lucky, find a local gym.
On this day, Caleb and I did one of our new favorites; Death by Burpee (http://www.menshealth.com/fitness/death-by-burpee ) or the burpee challenge as we've come to call it. This is by far our most challenging workout and involves doing a set of burpees each minute and incrementally adding 1 burpee each set with the eventual goal of reaching a set of 20. Noah is currently our family leader, but Caleb (9 sets) and I (14 sets) are gaining on him.
Next we have breakfast at home and then get ready to head out. This day we knew it was going to be a long one as there was so much we wanted to see. We left our apartment around 9:30 and jumped on the Budapest subway. Our line was built in the late 1800s (the first in Europe) and feels like it has not been updated since then. Our first event this day was a walking tour of Budapest's Jewish Quarter. In a number of cities we have taken advantage of "free" walking tours. The tours are not really free, but you do get to decide how much you want pay at the end of the tour. We really lucked out with a tour guide who knew much about Hungarian history, the city of Budapest, as well as Jewish religion and culture.
On the tour we learned about the unique experience that Jews had in Hungary prior to World War II. For the most part, Jews in both rural and urban Hungary were able to practice Judaism and hold positions in the private and public sector. Unlike other eastern European countries, Hungarians Jews did not experience pogroms and in many ways thrived in Budapest. One of the greatest achievements of the community was building what is still today the second largest synagogue in the world. Built from 1854- 1859, the Dohany Street Synagogue (also referred to as the Great Synagogue) is still in use today and includes a large memorial garden to the victims of the Holocaust.
Of course, World War II dramatically impacted Jews across Hungary. Early in the war, Jews were protected from deportation by the Hungarian government. However, all of this changed after the Nazi invasion in March 1944. Even though Germany's defeat was almost certain, the Nazi's swept through the Hungarian countryside and cities with a particular speed and vengeance. In just eight weeks some 424,000 Jews were deported to Auschwitz-Birkenau. In October 1944, when the Nazi-affiliated Arrow Cross party came to power thousands of Jews from Budapest were murdered along the banks of the Danube and many more marched to the Austrian border. While the Soviet Union put an end to the Holocaust, the rise of Communism in Hungary brought with it a new era of oppression and hardship that impacted the ability of the Jewish community to quickly rebuild itself.
Today the Jewish quarter is a mix of a small, but vibrant Jewish community and a hip food and bar scene that in some instances incorporates Jewish culture. Sprinkled throughout the neighborhood are a number of "ruin pubs", (pubs built into spaces left from the remains of crumbled old buildings), street food establishments, kosher restaurants, and Judaica shops. We took advantage of this opportunity and had a roving lunch eventually eating at three different establishments to ensure we got our fill of Jewish street food, matzoh ball soup, and hummus!
With full bellies, we walked a few kilometers to the Great Market Hall in search of souvenirs, Hungarian paprika, and believe it or not, more food. The Great Market Hall was built in 1897and has three floors, a top floor filled with souvenir stands, a main floor with produce and spices, and a basement with the "smelly stuff," both fish and pickled goods.
Even though the day was starting to feel long, we decided we wanted to push through and to take a night cruise on the Danube River that did not start for another 4 hours. After grabbing tickets for the 9:00 pm cruise, we took this opportunity to pop into the nearby Marriott hotel where I passed on one of my traveling secrets to the kids: head to the conference room floor (usually the second floor) as the bathrooms are always huge, clean and often empty. They were not disappointed.
After the Marriott, we stopped for drinks at a ruin pub, and dinner at a food truck (yes, we're still in Budapest, not Portland), and then it was finally time for our night cruise. Noah had been pushing us do this all week, and we are so glad that we relented. While Budapest is a beautiful city by the day, at night it becomes a jewel. As the second most illuminated city in Europe (after Paris), we stared in wonder at each of the sites from the gigantic Parliament building to the many beautiful bridges that connect hilly Buda on the west side of the river with flat Pest on the east side.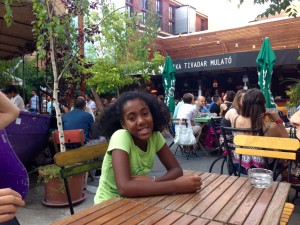 Arriving back at the dock around 10:30 pm we still needed to walk to the subway, take the train, and make the short walk from the stop to our apartment. We literally stumbled into the apartment at 11:15pm after a long and fun day that fed our minds, our tummies, and our senses. "Typical" in many ways, but also very special on its own.