By Noah
On a warm, sunny afternoon, our family left the apartment for a short walk to City Park and the Szechenyi Baths. Built in 1913, it is the biggest and most popular of all the bath houses in Budapest. Szechenyi has 17 different pools that range from a freezing cold ice bath (16 degrees C) to incredibly warm and relaxing natural thermal pools that contain healing minerals known to cure many different diseases and ailments.
Outside there is a very warm thermal pool where you can relax and float; a cold lap/immersion pool to cool off and swim laps; and a medium temperature thermal pool with a lazy river and natural jets shooting up from the bottom. You can go back and forth between the pools cooling down and heating up to achieve maximum comfort mode while outside.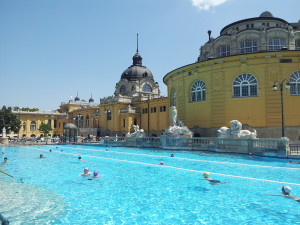 Inside there are 15 types of thermal baths in several different rooms, 6 saunas ranging in heat, smell, and experience, and 4 steam rooms. By the end of the day you are so comfortable and relaxed you just want to fall down and take a nap (which is what we ended up doing when we got home.)
Another incredible thing about this bath is the setting. Szechenyi is located in a beautiful park surrounded by a castle and a lake. Even though the building is only around 100 years old it feels like you have stepped into a time machine and landed in a building from many hundreds of years ago. The baths are surrounded by marble statues and romanesque columns and while looking up you see huge domes in the ceiling decorated with beautiful frescos. Szechenyi is a great experience – I just wish we had a chance to visit some of the other baths in Budapest. I guess that will have to be for our next visit.