Noah and Romi found food bliss in Florence. For Noah it was one of the best sandwiches he has eaten on this trip and for Romi, it was daily servings of gelato. Here are their musings on these finds.

By Noah and Romi
We have had a lot of amazing food on this trip – from heaping bowls of meat stew in Ethiopia to big plates of homemade bread and moussaka in Turkey. It has been surprisingly hard, however, to find a really incredible sandwich. Other than döners in Turkey and shawarmas in Israel, we have not found blog worthy sandwiches other places on our trip.
All that changed when we visited Florence, Italy and stumbled upon the All'antico Vinaio sandwich shop right around the corner from the famous Uffizi art gallery. We had just finished a delicious lunch of fresh fish, spaghetti, lasagna, eggplant parmesan, and gelato, but when we saw these sandwiches I knew I needed to get one.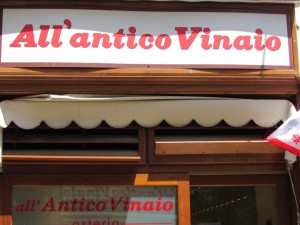 The line for the restaurant was out the door and down the block. After waiting for about 20 minutes it was finally my turn to order. The best part about this sandwich shop was you just tell them what kind of meat you want and they do the rest. They know exactly what kind of cheeses, spreads, and toppings to add and fold it all into warm, fresh focaccia bread. I choose spicy fennel salami and the man behind the counter cut off a TON of meat and assembled the masterpiece with homemade cream cheese, artichoke spread, and grilled eggplants. All for only 5 euros!! After I felt a little sick, but it was all worth it!
Gelato is the Italian version of ice cream, but is much creamier. Almost everyday in Italy we had gelato and went to some really good places. But the best place was Vivoli gelateria in Florence. Even the locals in Florence think this place is one of the best gelaterias.
We decided to have gelato before lunch and started looking for Vivoli, but using google maps took us to the wrong corner. We just kept going straight which led us to a big square. By this time we were getting hungry and decided to eat lunch. We ate outside at a cafeteria run by very friendly people who told us how to get to Vivoli after lunch.
We started walking in the direction they told us and after about three blocks we were lost. We decided to turn on google maps again. This time we found Vivoli and realized that we walked right past it the first time and didn't notice it before because we were looking at a deli across the street.
They only serve gelato in cups, not cones. I choose half chocolate and half vanilla. They didn't have my favorite flavor, stracciatella, which is like chocolate chip ice cream so I chose my usual flavors. I wish we were staying in Italy longer because there is so much to do there. Not just eat gelato, but other things too!