By Sue
For our second week in Italy, we focused on the area in and around Florence. Rather than stay in the city, we rented an apartment in the very small hill town of Poppiano (population 850) – about 30 minutes SW of Florence. Our apartment was up the road from a 12th century castle and in every direction we enjoyed sweeping views of olive groves, vineyards, wheat fields, and pine trees.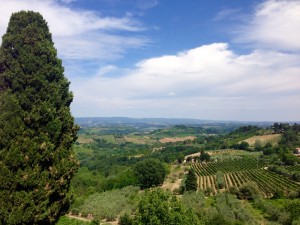 In the course of a week we made two trips into Florence, went hiking to the ruins of a medieval town that was devastated by the plague, visited the hill towns San Gimignano and Volterra, and spent a full day in Siena (more on this in Noah's upcoming post on Il Palio). All of this made possible by Max's willingness to brave the roads of Tuscany with their hairpin turns, endless blind spots, and crazy drivers.
Italy holds special memories for me as I spent a semester abroad in Florence when I was a college junior. While that was 28 years ago, there are many things from that experience that I carry with me today. It was here that I was bitten by the travel bug and developed a deeper desire to explore, learn and be curious about the world. I am also quickly learning there are a number of things I have forgotten from that experience, including basic conversational Italian and anything related to Renaissance art and history!
Now nearly three decades later I am watching that same spark ignite in the hearts and minds of our children. They have embraced this experience fully and it has been fun watching their wide-eyed enthusiasm for each new stop on the journey. When they lament the lack of time in a certain place or feel sad we aren't able to make it somewhere we had hoped to visit, I keep reminding them this may be their first venture out into this big, amazing world, but it doesn't have to be their last. New opportunities await them to witness the diverse ways people live and connect with one another; to be a curious observer and listener; and to feel more a part of this global community than any electronic device or new technology can offer, if they so choose. I look forward to seeing where the journey takes them next.